My little sister's favorite running "joke" is to tell people that I don't like potato salad when we're in public. I get so annoyed (which cracks her up) because it's such a boldfaced lie: potato salad is one of my favorite dishes.
I grew up in Hampton Roads, which is right on the Southeast tip of Virginia. Southern summers are notoriously HOT, whereas potato salad is cold, and part of me believed that eating it would help cool me down. I could easily find it at neighborhood cookouts, family picnics on the beach, church barbecues, and other social gatherings – which made it a core staple in many of my summer memories.
I remember my crush brutally rejecting me at my school's 8th grade end-of-year pool party and being consoled with a plate made by my favorite teacher. She fixed me some pulled pork, beans, and potato salad, which I accidentally got on the 2-piece bathing suit ("tankini") that I awkwardly begged my mom to buy me.
I remember the barbecue dinner and full spread of sides at the first summer sleepover I had in high school, and how welcome my now-best friend and her mom always made me feel in their home. To this day, they still pick up potato salad if they have barbecue when I'm over because they know I love it.
I remember the square tub of Food Lion potato salad in my grandparents' fridge (which was littered with leftovers stored in "I Can't Believe it's Not Butter!" containers) that accompanied the ribs (my sister's favorite) that my grandfather made every year for my sister (my grandfather's favorite) on her birthday in August.
When I look back on those summers, I feel a very grounded joy remembering the people who made Hampton Roads feel like home. Living in the American South made me resourceful, resilient, proud, and compassionate because the people in my community took care of each other – in good times and in bad.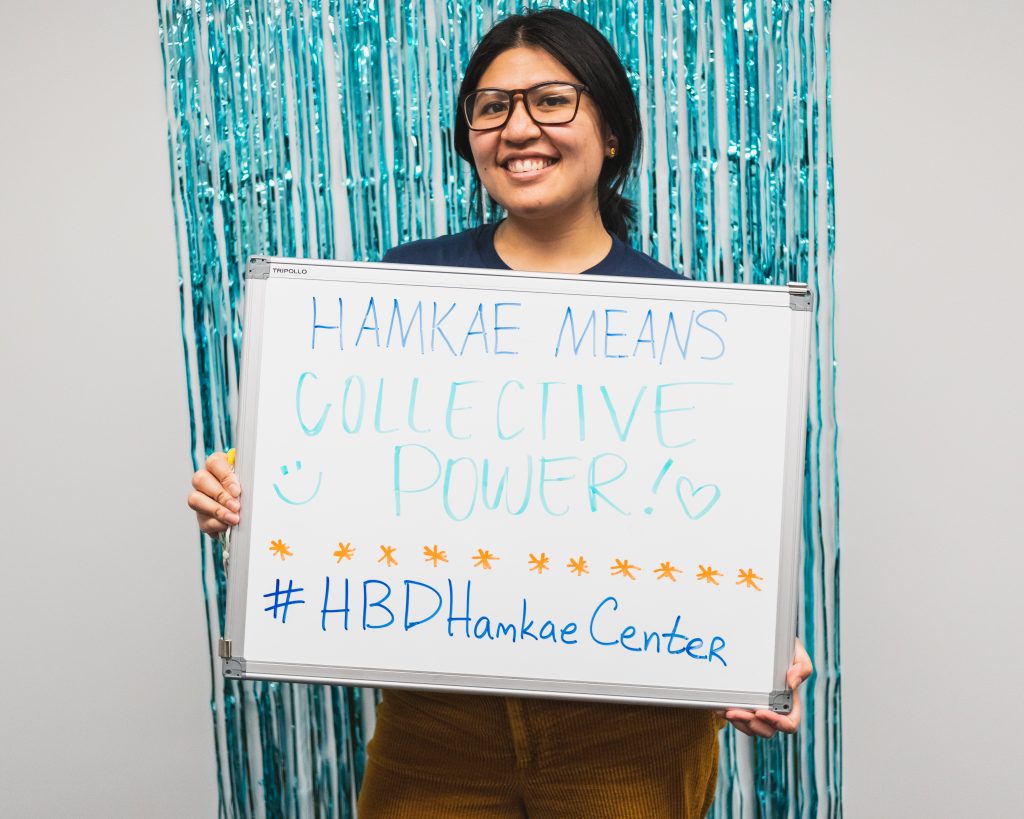 In my role at Hamkae Center, I get to help Asian American Virginians like me get what we need to take care of ourselves and each other. I believe that Asian American Virginians make a significant impact on our state and have unique needs and experiences on issues like voting, accessing community resources, and public education. Growing up as an Asian American in Virginia will certainly look different depending on where you live. But, I always think of the people who cared for me when I needed it most. I think of home.
So, as much as it irks me when my sister inevitably says "…but you don't even like potato salad," I let it roll right off of my back because every bite of potato salad is a little taste of home.
---
Recipe for the potato salad that Zowee allegedly doesn't like:
Ingredients:
4 potatoes (peeled or unpeeled, your choice)
2-3 large hard-boiled eggs, chopped (*optional)
½ cup kewpie mayonnaise
½ stalk chopped celery
¼ cup sweet relish
1 clove garlic, minced
2 tablespoons of mustard
salt and pepper to taste
Directions:
Boil the potatoes in salted water until tender. Remove and chop.
Gently combine potatoes with the other ingredients and store in the refrigerator.
Experiment so it suits your tastes! The ratios don't matter, as long as you're cooking from your heart (and don't use too much salt).
---