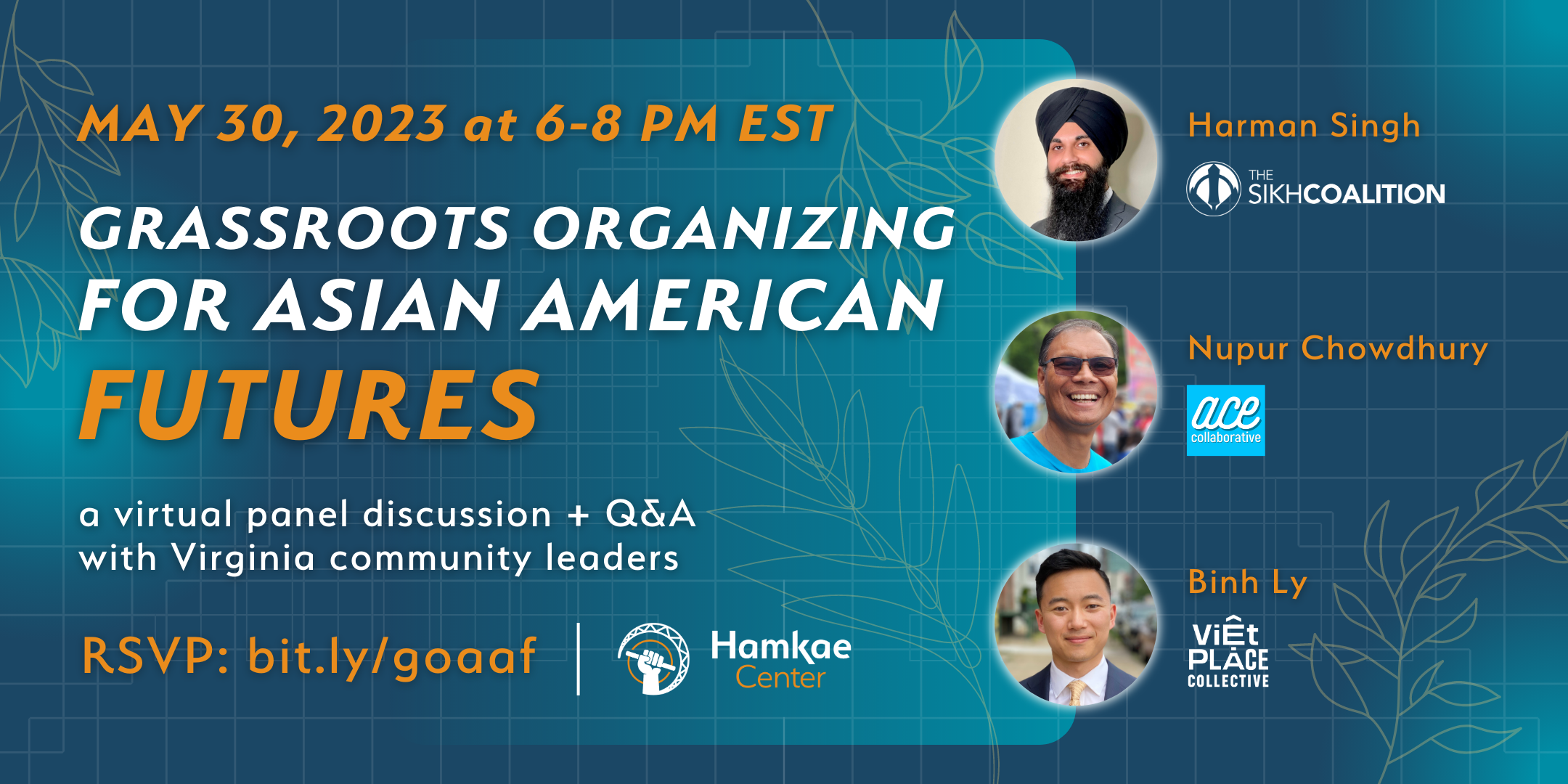 6-8pm EST on 30 May 2023; virtual on Zoom
Hamkae Center invites you to Grassroots Organizing for Asian American Futures, in which we'll highlight the experiences of our peers and partners who organize Asian Americans in Virginia alongside us: Nupur Chowdhury from ACE Collaborative, Harman Singh from Sikh Coalition, and Binh Ly from Viet Place Collective! In this virtual panel with audience Q&A, they will share their stories and insights on what it takes to organize community members to have better working conditions, to fight against displacement, and to build cross-coalition solidarity. Together, we'll examine how grassroots issues are impacting Asian Americans across different identity groups, and what's at stake for our collective futures in Virginia.
This event is hosted and moderated by Jade Lee from Hamkae Center, for Asian Pacific American Heritage Month.
Panelists:
Harman Singh (he/him/his) is the Education Director at the Sikh Coalition. In this role, he oversees the education program area, including reviewing and creating educational content and resources about the Sikh faith, community, and traditions. He also works to advance the Sikh Coalition's multi-year advocacy in the area of state standards curricula to ensure that Sikhism is taught in public school classrooms across the United States and that teaching materials are accurate.
Binh Ly (he/him/his) is a core organizer with Viet Place Collective and helps lead communications and community outreach. Binh has a background in affordable housing development, urban planning, and political organizing.
Nupur Chowdhury (he/him/his) is a Community Organizer with ACE (Asian American Pacific Islander Civic Engagement) Collaborative, focused on organizing and mobilizing the AAPI communities of Virginia for housing and worker-based issues.